Solar Energy in Sri Lanka: Potential, Current State, Advantages, Challenges, and Future Outlook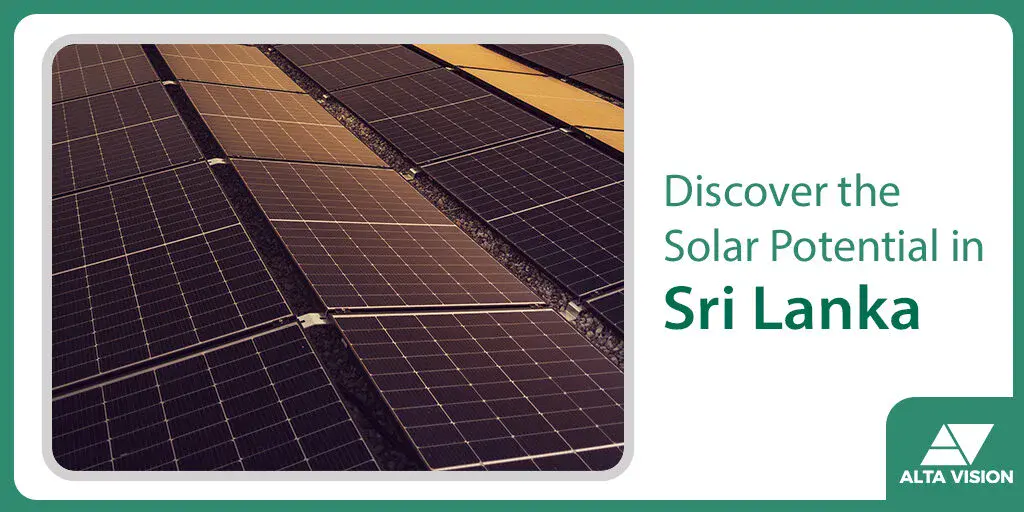 Sri Lanka is an island nation blessed with abundant sunshine and solar energy potential. However, solar power currently contributes just 0.4% of the country's electricity mix. With prudent policies and investments, Sri Lanka can tap into its rich solar resources to meet a substantial share of its power needs from a clean, renewable source. According to the Asian Development Bank (ADB), Sri Lanka receives 4-6 kWh per square meter of solar insolation daily with around 5-7 hours of sunshine. This tropical climate allows for solar photovoltaic systems to operate effectively year-round. The country's location close to the equator also means the sun's rays strike panels more directly, improving energy yield. While total installed solar capacity was just 164 MW in 2018, capacity has expanded over 10 times since 2015 indicating the technology's tremendous room for growth. Solar energy confers multiple benefits for Sri Lanka including reducing fossil fuel imports, creating jobs, ensuring energy access, and meeting sustainability targets. However, challenges remain in financing, grid integration, policies and lack of local manufacturing. Addressing these barriers can help unlock Sri Lanka's full solar potential and secure its energy future.
What is the Solar Potential in Sri Lanka?
Sri Lanka is located close to the equator and receives abundant sunlight throughout the year, making it an ideal location for solar energy generation. According to a 2017 study by the Asian Development Bank (ADB), Sri Lanka has a high potential for solar power with an average solar insolation of 4-6 kWh/m2 per day.
How Does Solar Energy Work?
Solar energy is harnessed by converting sunlight into electricity using photovoltaic (PV) cells. PV cells are made of semiconducting materials like silicon that absorb photons from sunlight and release electrons, generating an electric current. This current is directed into an inverter which converts the DC output into AC electricity that can be used for power needs.
What Factors Affect Solar Energy Generation?
The amount of solar energy produced depends on several factors:
Latitude - Proximity to the equator means more direct sunlight per unit area. Sri Lanka's location close to the equator gives it an advantage.
Cloud cover - More clouds mean less sunlight reaches the solar panels resulting in lower energy generation.
Time of day/season - Solar irradiance varies through the day and is lower in winter months. Solar panels produce the most energy when pointed directly at the sun.
Temperature - Extreme heat can reduce solar panel efficiency slightly. Cooler ambient temperatures tend to improve performance.
Pollution/dust - Buildup of dust or pollution prevents sunlight absorption lowering energy yield. Regular cleaning maintains efficiency.
What is the Geographic Location of Sri Lanka?
Sri Lanka is an island nation located in the Indian Ocean, southeast of the Indian subcontinent. It lies between 5°55′ and 9°51′ N latitude and between 79°41′ and 81°53′ E longitude, just north of the equator. This tropical location provides high solar irradiation throughout the year.
How Does Climate Impact Solar Energy Generation?
Sri Lanka has a tropical climate with distinct wet and dry seasons. The northeast monsoon brings rain from December to February while the southwest monsoon occurs from June to September. Solar generation is higher during drier months with less cloud cover. Variations do exist in different regions.
What types of solar panels are suitable for Sri Lanka's climate?
Monocrystalline and polycrystalline silicon panels are well-suited for Sri Lanka's climate. Monocrystalline panels made from a single silicon crystal tend to be slightly more efficient in high temperatures. Polycrystalline panels with silicon fragments are cheaper but marginally less efficient. Thin-film panels can work but have shorter lifespans in hot, humid climates. Proper solar panel selection, cooling, and cleaning help optimize energy yield.
What is the Current State of Solar Energy in Sri Lanka?
Solar power is an emerging energy source in Sri Lanka. According to the Ceylon Electricity Board (CEB), the installed solar capacity was around 164 MW as of 2018, contributing 0.4% of total electricity generation. However, solar adoption is rapidly increasing driven by favorable policies.
What is the Installed Solar Capacity in Sri Lanka?
As per the Sustainable Energy Authority of Sri Lanka, the installed solar PV capacity increased over 10 times from 12 MW in 2015 to around 164 MW by 2018. Grid-connected rooftop solar accounted for 147 MW while large-scale solar farms contributed 17 MW. The government aims to achieve 1,000 MW of solar capacity by 2030.
What Government Initiatives Promote Solar Energy?
The government has introduced several policies to accelerate solar deployment including net metering, net accounting, and standardized power purchase agreements. Import duty concessions, loans, and tax holidays have improved the economics of solar projects. The CEB launched a small power producer program welcoming private investment in solar farms.
What are the Advantages of Solar Energy in Sri Lanka?
Sri Lanka has abundant solar energy potential, with average solar insolation of 4-6 kWh/m2/day. Adopting solar energy brings several key advantages for the country:
Renewable and sustainable - Solar is a renewable energy source that does not produce greenhouse gas emissions. Expanding solar contributes to Sri Lanka's goals of increasing renewable energy to 70-80% of the energy mix by 2030.
Reduces reliance on fossil fuel imports - Sri Lanka imports over 95% of its fossil fuels, costing $3.5 billion annually. Increasing domestic solar generation reduces the need for expensive fuel imports.
Improves energy access - Only 75% of Sri Lankans have grid connectivity. Solar mini-grids and off-grid systems can provide electricity access to rural communities.
Creates jobs and supports the economy - The solar industry employs over 35,000 people in Sri Lanka. Solar expansion can create jobs in manufacturing, installation, and maintenance.
Cost-competitive with conventional energy - Solar tariffs have fallen below $0.10/kWh recently, making solar cost-competitive with coal and oil-fired power.
Quick and modular deployment - Solar systems can be installed rapidly and modularly scaled as needed. This supports grid flexibility and resilience.
Low operations and maintenance costs - Solar has minimal moving parts, requiring little maintenance over decades of operation. This provides long-term price stability.
How does solar power contribute to environmental sustainability?
Solar PV systems generate electricity without any air or water pollution during operation. According to a 2020 study by Rodrigo et al., solar energy in Sri Lanka can potentially avoid over 6.5 million tons of CO2 emissions per year by 2030. This helps mitigate climate change and other environmental concerns.
How Does Solar Energy Reduce Carbon Emissions?
Solar PV emits no greenhouse gases when producing electricity. The ADB estimates that 1 MW of solar power in Sri Lanka can reduce carbon dioxide emissions by 972 tons per year compared to fossil fuel plants. Wider solar adoption can significantly lower the country's carbon footprint and help meet emissions reduction targets.
How Does Solar Energy Contribute to Energy Independence?
Sri Lanka imports most of its fossil fuels for power generation costing over US$2 billion annually. Scaling up domestic solar generation will reduce reliance on imported coal and oil, improving energy security and current account deficits. The CEB expects solar power to account for 20% of generation by 2030 from zero today.
How does solar power benefit the economy of Sri Lanka?
Solar energy has the potential to create jobs in manufacturing, installation, and maintenance according to a Greenpeace study. It can also lower electricity costs with the National Renewable Energy Laboratory estimating 50-75% reduction in utility bills. Cheaper power and energy access can boost economic activities across sectors.
Are There Challenges to Solar Energy Adoption in Sri Lanka?
Despite the high potential, solar power expansion faces some barriers in Sri Lanka:
High upfront costs - The initial investment for utility-scale and residential solar remains high despite falling prices. Access to financing is needed.
Grid integration complexity - Expanding solar introduces technical challenges in integrating intermittent generation and maintaining grid stability. Smart inverters and grid modernization are required.
Land availability - Finding suitable large tracts of non-agricultural land for utility-scale solar farms can be difficult in densely populated Sri Lanka. Rooftop solar on homes, factories, and commercial buildings is an alternative.
Policy and regulatory issues - Outdated regulations, permitting delays, and net metering policies limit rooftop solar adoption. Policy reforms are essential.
Limited local manufacturing - Over 80% of solar equipment is imported. Encouraging local manufacturing through tax incentives and skill development can create more jobs.
Weather variability impacts output - Sri Lanka's two monsoon seasons can reduce solar output at certain times of the year. System designs must account for seasonal variability.
What Are the Cost Barriers to Solar Energy Adoption?
The upfront costs of solar systems remain high for many households and businesses. According to the Ceylon Electricity Board (CEB), solar power is 2-4 times more expensive than coal-fired power in Sri Lanka. Lowering costs through localized manufacturing and financing options can improve adoption.
How Does Lack of Awareness Impact Solar Energy Uptake?
Limited consumer knowledge regarding solar technologies, policies, costs and benefits has constrained growth per a 2020 study by Ranasinghe et al. Raising awareness through education programs and demonstration projects can help drive demand.
What Are the Technological Challenges in Solar Implementation?
Integrating a high share of variable solar power into the grid poses technical challenges related to grid stability and management. Upgrades like smart inverters, battery storage and transmission infrastructure are needed to balance supply and demand.
What is the Future Outlook for Solar Energy in Sri Lanka?
Solar power is poised for strong growth in Sri Lanka driven by policy support, improving economics and environmental benefits.
Government targets aim for 70-80% from renewables by 2030, up from just 2% in 2018. This will require $2-3 billion in solar investments by 2025.
Rooftop solar technical potential is estimated at 6 GW, with policy support needed to unlock adoption. The commercial and industrial sector offers major potential.
Utility-scale solar parks of 100-200 MW are planned in Poonerin, Siyambalanduwa, and Hambantota. Floating solar on reservoirs offers further potential.
New net metering rules introduced in 2016 helped boost rooftop solar. Further policy reforms on permitting, grids, and financing access can accelerate growth.
Efforts to establish local solar manufacturing and skills training are underway. This can reduce imports and create jobs.
Emerging innovations like solar hybrid microgrids, solar irrigation pumps, and solar desalination can expand solar applications for communities and businesses.
With fossil fuel imports expected to rise with GDP growth, solar energy offers a cost-competitive and sustainable alternative that can enhance energy security and access for Sri Lanka. Supportive policies and public-private collaboration are key to unlocking this immense potential.
What are the Potential Growth Trends in Solar Energy?
The CEB plans for solar to reach 1,000 MW by 2020 and 20% of the generation mix by 2030. Rooftop solar adoption is expected to expand significantly. Emerging solar applications like floating PV, solar pumps and vehicle charging provide new opportunities.
How Can Solar Energy Integration be Improved?
nvestments in grid infrastructure modernization, forecasting tools, energy storage and microgrid systems can facilitate solar integration. Policies like time-of-day pricing and EV charging incentives can shift demand to match solar output. Regional grid interconnection also helps balance variable supply.
Sri Lanka has abundant solar resources to meet a major share of its electricity from a clean, sustainable domestic source. Addressing current challenges can help unlock the full potential of solar power for the nation's economic and environmental future.
Sidebar
Tags
Benefits
Feasibility
Residential
Solar
Alta Vision Solar
We offer reliable and efficient Solar Power Systems for industries and homes in Sri Lanka. Our solutions are custom built to ensure maximum benefit for your company or homes.
Follow Us