Solar Power for Industries in Sri Lanka – How AVS Could Support Your Business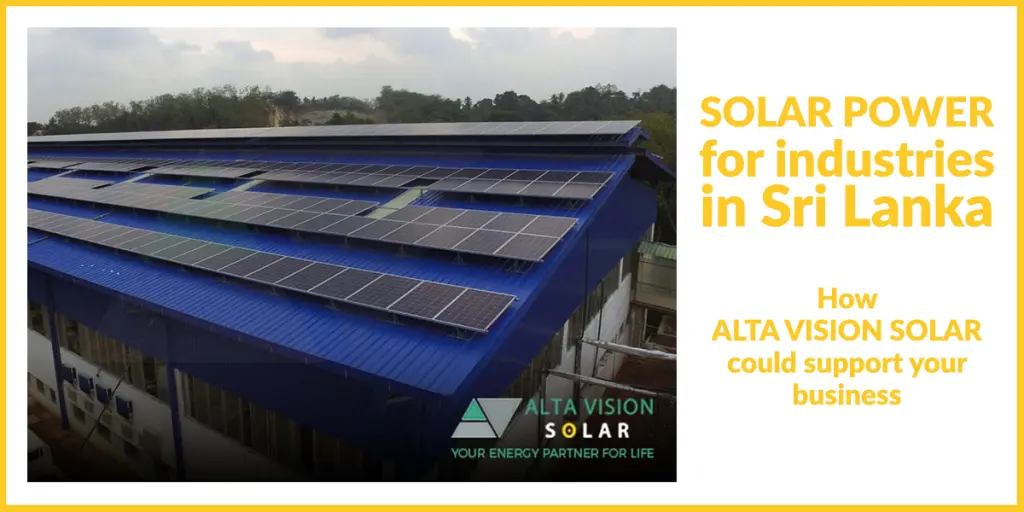 Solar Power is a renewable energy source that has proven to be cost effective and practical and is beneficial for both households and industries.
However, Sri Lanka is yet to harvest the maximum potential of Solar Power. We are a Solar Power Company in Sri Lanka that is committed to making this technology accessible to every individual in the country.
Energy is vital for every industry. The extent of energy demand for a specific industry depends on several factors. These include;
Organizational Processes – what does your business do?
Human Resources – How many people your facility supports?
Efficiency – How efficient your facility needs to be?
Depending only on conventional power generation methods to meet an industry's energy need is risky.
Why?
We are running out of fossil fuels
Hydropower generation is dependent on weather conditions
We do know, however, that the sun shines every day.
Thus, transitioning towards solar will ensure business sustainability and increased efficiency. If you are a company in Sri Lanka, it is now time to embrace Solar Power.
How does adopting solar power affect your business?
As a business owner, you always look for opportunities that help develop your business.
So why not embrace the concept of solar energy and save on some expenses?
By going solar, your company could:
Reduce operational costs
Enjoy a low maintenance energy solution
Shrink your organization's carbon footprint
Embrace new technology
Ensure sustainability
How has Alta Vision Solar contributed to industries going Solar in Sri Lanka?
Over the past few years, Alta Vision Solar played a vital role in helping several companies in Sri Lanka go Solar.
We have undertaken projects with capacities ranging from 40kW to 100kW.
Some of our major projects include:
Nawashalawa Educational Institute – 40kW Solar PV System
Learn more about the impacts made through our industrial projects.
The process for your industry to go Solar!
Let us walk through a real-life scenario where we hope to give you a better understanding of how things work.
RSL Ceramics is a subsidiary that is under the Davora group of companies. It specializes in ranged ceramic bath-ware manufacturing. With the manufacturing processes in the background along with other business activities, a large amount of power is required to keep the business on track while ensuring productivity.
As RSL searched for a cost-effective method to carry out their business, they decided to partner up with Alta Vision Solar to fulfill their electricity needs.
Thus, the solar panels for the RSL site were successfully installed on the 24th of October 2017.
Taking into account 334 days, starting from the 24th of October 2017 to the 23rd of September 2018, a total of 127.526MWh were generated at RSL.
The average solar power generation per month is 114.54kWh.
It is important to note that since this is an on-grid connection, during the days where there is a power cut, the generated energy is not used. Therefore, the actual generation is higher than this. On average the monthly generation exceeds 125kWh if the total generated energy is considered.
The generated units have given an income of 30,238,560 LKR (CEB pays 22 LKR per unit exported to the national grid) during the 11 months to RSL. This causes the initial investment to be covered in less than 4 years with the system warranty going beyond 10 years!
How can you go Solar?
Signing up for a field inspection is the first step to going solar with us.
We will provide you with a cost estimation following the findings of the visit
This way, we can agree on a timeline that best suits you and initiate your journey towards going solar!
We, at Alta Vision have designed a suitable timeline beneficial for you where we intend to deliver results within a month.
We intend to finish installing the custom mounting structure within two weeks at your business premises.
Get an estimate
or
arrange a visit
for our team to help you out with the next steps. Let Solar Power transform your industry in Sri Lanka!
Sidebar
Tags
Solar
Alta Vision Solar
We offer reliable and efficient Solar Power Systems for industries and homes in Sri Lanka. Our solutions are custom built to ensure maximum benefit for your company or homes.
Follow Us