Benefits of Switching to Solar Energy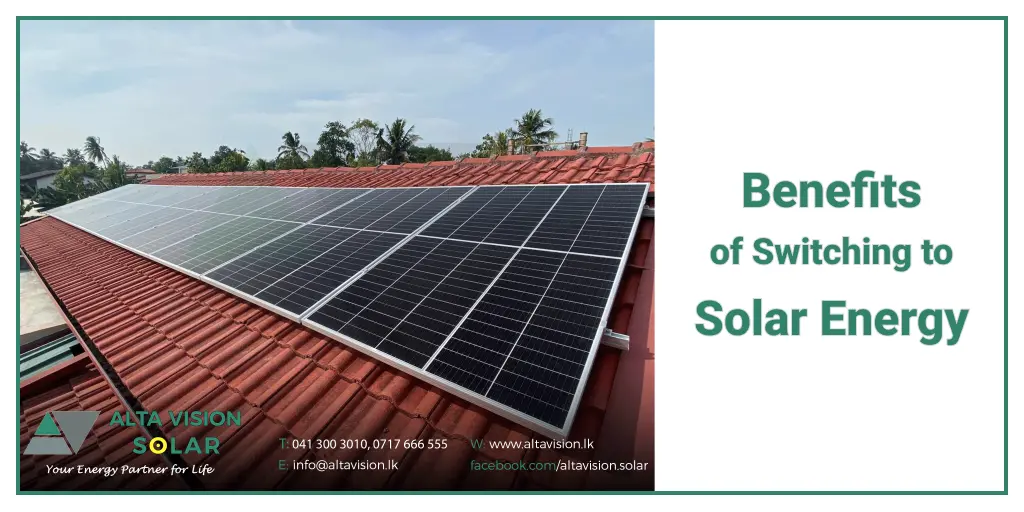 "I'd put my money on the sun and solar energy. What a source of power!" - Thomas A. Edison
As Sri Lankans, we all have encountered power outages that last an hour or more, and the majority of you must be exhausted. Well, instead of relying on the traditional power or energy source, let's just switch to Solar Energy!
You might wonder why specifically 'Solar Energy' ?
It's really no understatement to say that solar energy is environmentally friendly. Solar energy is a terrific answer in a world that is evolving toward alternative energy resources. And Hey, 'The sun really is tax free!'
Here are some of the major benefits of switching to Solar Energy.
Positive impact on the environment since solar power does not emit greenhouse gasses.
Reduction of the expenses on your electricity or utility bills.
Solar energy/solar power can be applied to anywhere with regards to industries as well as households.
Little to no maintenance for a long period of time, and much more.
Lately, Sri Lankan solar companies have made a remarkable improvement in the energy industry. Sri Lankans are becoming increasingly aware of the advantages of solar PV systems. As a result, they now see it as a viable option for addressing energy needs. Solar Energy was able to impart from Solar Water Heating to Solar Electric Power Generation with the advancement of technology.
As a pioneering solar PV installer in Sri Lanka for almost a decade, Alta Vision Solar is a reliable and efficient team of solar experts combining unparalleled engineering expertise with top-notch solar equipment for residential and industrial solar PV projects.
Why should you choose Alta Vision Solar for your solar energy decisions?
Because we have successfully manifested higher levels of;
Energy efficiency
Cost savings
Quality of work
Customer satisfaction
Also we managed to record an impressive power generation of 140 units per kW with our high performing solar equipment together with custom-made mounting structures and electrical designs.
Got an idea to switch your home or office to solar energy? Then, visit our website and contact us now!
Sidebar
Tags
Solar Energy
Benefits
Solar
Solar PV
Alta Vision Solar
We offer reliable and efficient Solar Power Systems for industries and homes in Sri Lanka. Our solutions are custom built to ensure maximum benefit for your company or homes.
Follow Us